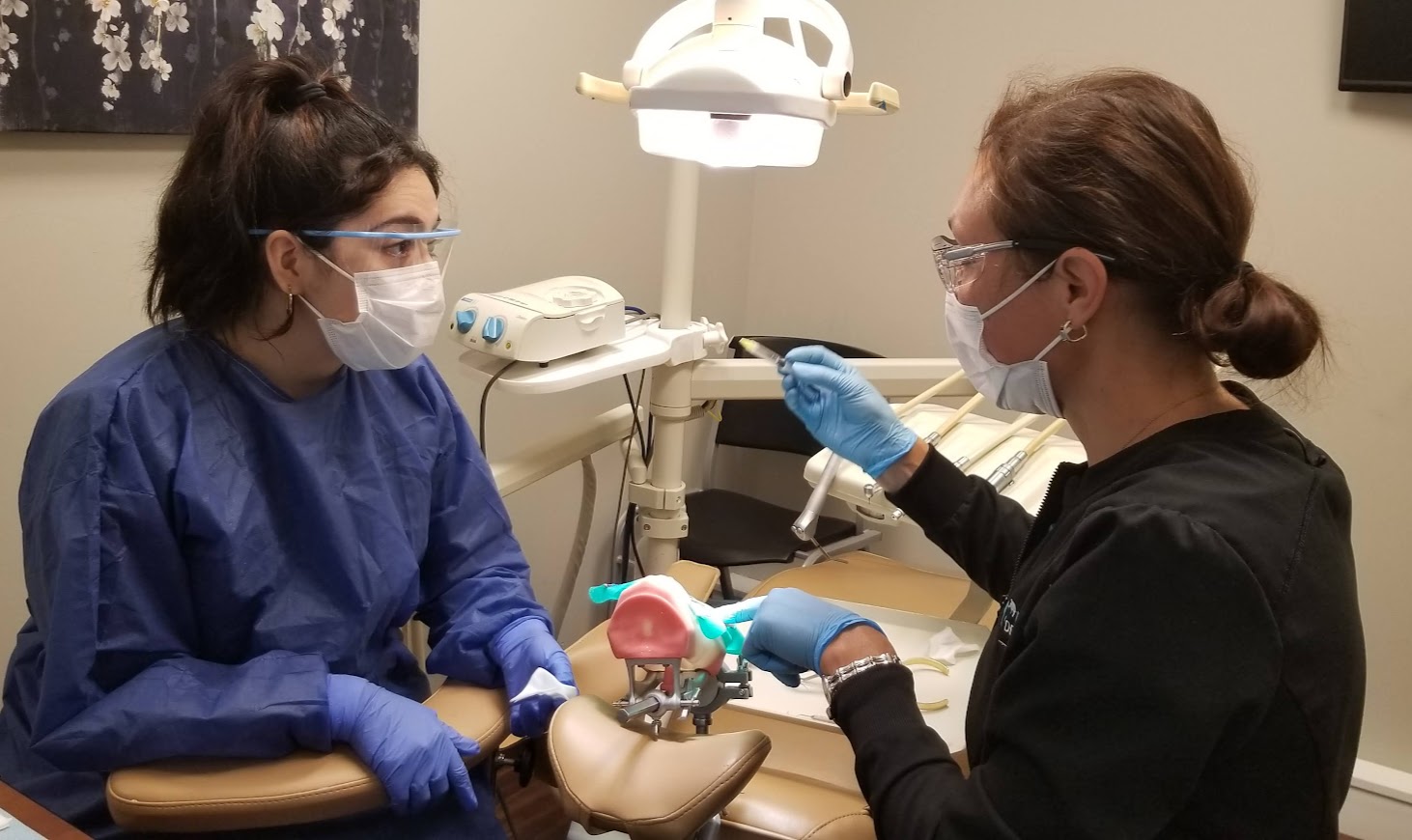 Our dental assistant training program utilizes a textbook that will be provided to you during the course.  Along with the training manual, we will include a workbook, video lessons, chair-side training, and internships in a dental clinic based on availability.
Week 1. Introduction to the Dental Assisting Profession. Sciences in Dentistry. Oral Anatomy.
Week 2. Overview of dentition. Tooth morphology. Oral Health and Prevention of Dental Disease.
Week 3. Infection Prevention in Dentistry. Occupational Health and Safety.
Week 4. Assisting in a Medical Emergency. Â CPR Training. (Certificate). Anesthesia and pain control. Principles of Pharmacology.
Week 5. Patient Information: New patients. Dental Records, Vital Signs, Oral Diagnosis and Treatment Planning. Introduction to dental software and patient information security.
Week 6. Foundation of Clinical Dentistry. Structure of the Dental Office. Dental instruments. Moisture control. Anesthesia and Pain Control. Introduction to Sedation Dentistry.
Week 7. Radiology (X-Ray) training (Certificate). Extra-oral and Intro-oral Imaging.
Week 8. Dental materials. Introduction to Four-Handed Dentistry. Introduction to Cord Packing, Provisional Crowns & Bridge Fabrication.
Week 9. Restorative Dentistry: Chairside assisting in Filling, Build-ups, Crown, and Bridge Preparation. Introduction to Cosmetic Dentistry.
Week 10. Assisting in Endodontic Procedures. Post and Core. Rubber Dam Placement Skills. Introduction to Periodontal Dentistry.
Week 11. Oral and Maxillofacial Surgery. Assisting in Extraction and Implant Placement Procedures. Removable Prosthodontics. Conventional and Modern Denture restoration.
Week 12. Introduction to Pediatric Dentistry. Placing Dental Sealants. Introduction to Orthodontics Dentistry.
Week 13. Dental Administration and Communication Skills. Financial Management and Marketing. Employment Opportunities, Resume, and Preparation For Job Interviews